Myojo has a monthly series of long interviews to debuted Johnny's, in which they get to talk honestly and at length of their Junior age, their hopes, their dreams, their hardships and such. Kisumai members have started getting featured in this series. Kitayama and Senga have been already featured, this time it's Tamamori's turn, next month it's my favourite Miyata's turn (I will definitely translate it so look forward to it!)
10000 CHARACTERS LONG INTERVIEW
[The naked age - when I was a Jr]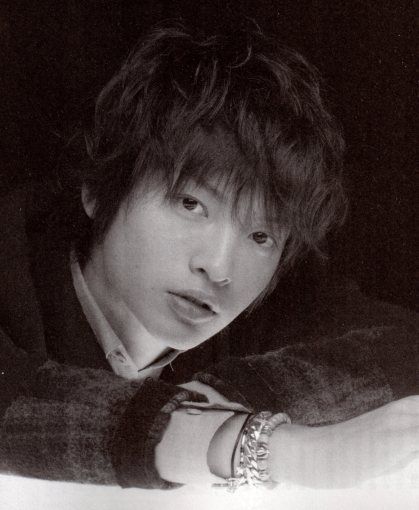 You're like a talking bird
You have a cool image at all times. Has it always been like this?
Now I look rather quiet but when I was a kid I wasn't like this. My voice was very loud and I used to talk a lot, so my father used to tell me "You're like a talking bird."
That's unexpected.
My mother, too, has told me "When you were little you used to be more full of energy and playful" (laugh). I used to play outside a lot, and I'd get my clothes dirty and get scolded. During elementary school I was one of the pets' caretakers but I hated the smell of the rabbit cage so I remember leaving school early to avoid cleaning it.
You were a mischievous boy.
But my room was on the second floor and at night I was too scared to go down to the first floor alone. I used to earnestly believe in ghosts.
What did you want to become when you'd grow up?
I can't remember it but apparently when my kindergarten teacher asked me what I wanted to be I answered "a granny."
Eh!?
Everyone else said Kamen Rider or Ultraman. My family was worried. "Isn't this kid going in the wrong direction?".
Ahahahahah.
Maybe it was the influence of my own grandmother. She was very kind and even as a child I felt she loved me. I liked her a lot.
I've heard you've started surfing when you were in the third year of elementary school.
It was my grandfather's influence. He used to take me surfing. It all started there. Then my family started doing it together, too.
Did you enjoy surfing?
At first I didn't enjoy it at all because I went there unwillingly. Sometimes I pretended being asleep inside the car, too.
Even if you were actually awake?
I was wide awake (laugh).
An audition with a sweater wet with tears
How did you see the entertainment world before joining Johnny's Jr.?
It was a world that had no relation to me at all. To begin with, I really disliked standing out.
Is that so?
I had just started middle school. I didn't even want to stand out in our class team for the sports festival. It was what they call puberty.
Your mother was a fan of Yamashita Tomohisa-kun's, apparently.
Apparently, yes. She was always saying "YamaP, so cool!" When I joined Johnny's and first saw Yamashita-kun, I thought he was cool, too. He was really shining. Kind of like, "He's a prince!".
Didn't your mother tell you she had sent your CV to the Jimusho?
I was in my first year of middle school. I had no idea about it.
When did she tell you?
I had made a promise to go fishing with a friend so I woke up very early. And then she suddenly said "Today you've got an audition." I replied "I can't go today" but she wouldn't concede and told me "You won't pass anyway, so why don't you just try going just because?"
So she half forced you to go?
I kept saying "I won't go" so my father came and just forcibly put me inside the car. I didn't understand anything anymore.
What was it like when you arrived to the audition venue?
It was full of boys auditioning. There were boys dancing in front of mirrors, boys stretching... everyone was all fired up, and I was very shy so I really disliked it all. Moreover, back then I was short so during the dance audition they put me in the front row. And even though I couldn't dance they ordered me to. I was completely puzzled and started crying.
Did you cry?
I did. I was wearing a yellow sweater and only the bit on my chest was darker because of my tears.
So you weren't just about to cry, you did cry copiously.
That was how much I disliked it. I had a plate with my name and number on it and they were checking it all the time in front of me, so I thought, I'm definitely not going to pass.
You didn't want to pass?
I didn't. I wanted to go home soon. So, they kept us dancing for one or two hours, and just when I thought I could finally go home they said "The people with the numbers we'll call now, please stay" and called seven or eight people. Somehow I was one of them.
I see.
So they told me "we're going to take pictures now" and took us to a studio. They told me to smile with people I didn't know and I clearly remember smiling while thinking "What on earth is this about?". I was with Tegoshi and Yaotome, among others.
What were your activities as a Jr. like?
It felt like a school club. I also had no desire to keep doing it for a long time. My parents had sent me to all kinds of lessons before but it never lasted. Like, they made me take swimming lessons, but I stopped going after a few time because I wanted to watch Pokémon on TV.
So what was your daily life like in middle school?
Everyday was fun, I did my best in club activities, played with my friends. I went to Jr. lessons and thought about school just a little bit. I didn't have a definite dream yet.
Didn't the girls in your class make a fuss about you entering Jrs.?
No, no one noticed. You see, I didn't appear on tv or magazines.
Is that so. But you were popular with girls, right?
Not at all. I really wasn't popular at all. I was the guy who got
giri-chocolate
on Valentine's.
(T/N: the kind of chocolate girls give to all their male classmates or coworkers as some kind of obligation, not the 'I-like-you' kind of chocolate)
I was popular in elementary school, though (laugh). I received a lot of chocolate and was really happy, but elementary schoolers just give chocolate to anyone. By middle school I barely even talked to girls and I didn't want to stand out.
You didn't want to stand out, you quit things soon after starting them... it's a wonder you didn't quit Jrs.
Right? But about six months after joining I received my first fanletter. We used to walk to work, but at that time there was a park nearby where the fans would line up, and the boys who had fans would receive their letters there. I didn't have any fan and always thought "That has nothing to do with me" so I always walked past the park, but one day someone talked to me. At first I was scared so I ignored them (laugh), but nonetheless they asked me "What's your name?" so I replied "Tamamori." The next day I had work that person gave me a letter and told me "Please do your best, I'm your fan." Seeing it I thought I must work hard.
What if you didn't get that letter?
Maybe I wouldn't be here. I still remember that day very clearly.
I kept building a wall to protect me from the other members till the end
Were your activities going fine?
At first I just went to lessons when they told me "Please come on this-and-that day next time." Ah, I remember that once I was surfing with my family and suddenly my mother received a call on her mobile phone telling her "Please come now to NHK." My mother was all agitated while I thought "Not again...", but I had to go. But I hadn't brought a change of underwear and I was too embarrassed to tell my family I wasn't wearing any underwear, so there was one time I took a dance lesson without underwear (laugh)
Ahahah. The first group you joined as a Jr. was J.J.Express alongside Nakajima Yuto-kun and Arioka Daiki-kun who are now in Hey!Say!JUMP, right?
Yes. As expected it feels different to be in a group, it's important. It's different when you're not in any group. I realized when they took me out of the group.
When you were removed from it?
Yes. The choreography told me "You're out" and I was like, "Eh!?" I was very frustrated and when the other Jrs told me "Eh? Why aren't you there? They're all together!" I felt really bad and embarrassed to reply "I'm out of the group."
It was the first time you felt a big frustration.
I think I was spoiled, after all. I felt a cheap sense of peace of mind for being in a group. I attended all the lessons but if someone asked me if I was really doing my best at singing and dancing, now I think I could've worked harder.
It was just when you'd started high school, right?
Yes, it was. At my high school there were only four boys so school was like a harem.
It looks like an environment out of a manga.
At first it was really hard. Since it was almost only girls, they ruled the school. Boys were actually all tiny in a corner. Even during lunch break the girls used up the entire classroom and us boys always ate our lunch in the corridor.
So the sense of unity between boys got stronger?
Exactly. I'm still good friends with the classmates from that time. But I'm very shy so for about a month after starting school I just couldn't speak to anyone, even though there were only four boys. The other boys thought I hated them. It wasn't true, but I really can't speak so easily to people at first. It takes me a lot of time to get used to people.
How did the distance between you guys get shorter?
During the cleaning turns
(T/N: in Japanese schools it's the students who take turns to clean the school)
I was together with the other boys. As I was cleaning with one of the guys, the atmosphere got pretty awkward. Like an uncomfortable silence. So I know I was really the worst but even though I knew it I asked him "What's your name?" He was caught by surprise too and replied "It's this-and-that." And starting from there we became really good friends. Sometimes we still talk about it. "We were classmates but we still spoke to each other in polite form!"
After A.B.C.Jr. you became Kisumai during your first year of high school. What was your first impression of the members?
I was in A.B.C.Jr. with Nikaido, Senga and Miyata so I was kind of okay with them, but I had never got in touch with the other three and they were older than me. They knew nothing about us as well so our relationship was cold and formal at first.
So you went all out with your trademark shyness, right?
Maybe I was the one who built a wall against the other members till the very end.
How did you break that wall?
Gaya and Kitamitsu started a "you mustn't use formal language" game for us. They would do it all the time. So we got closer little by little. Only with Watta, I couldn't get closer to him till the end (laugh). I had this kind of prejudice that he was the kind of guy I didn't like. We also had a big fight when we were in "Takizawa Enbujou".
What was the reason?
It was something very trivial. Watta entered the stage at the wrong time. It would've been better if he stayed on stage after that but he retreated to backstage. So since we were both on rollerskates we couldn't stop suddenly and we collided and fell. Despite that, he snapped at me saying "Why did you collide against me!" I thought "You're the one who made a mistake!" but he was a senpai so I just apologized. Then after the show ended when we got back to the dressing room we got into a fight.
How did you two reconciliate?
That day we went home still in arms against each other. The other day Watta was very considerate to me and spoke to me normally. I thought, too, that keeping that kind of stormy atmosphere was no good. After that incident we got closer. Now I understand that back then both of us were so full that we had no time to think at all. At first I really disliked him (laugh).
When did you start thinking you wanted to debut as Kisumai?
At first I didn't think about debut at all. We were all just desperately doing our best as a group.
I was shivering inside of me, thinking "this is no good"
So you were thinking "let's do our best." Inside the group you never looked 'desperate', you know?
People tell me "are you distracted?" all the time (laugh). Or that they don't understand what I'm thinking. Even the choreographer often told me "If you don't feel like working go home!" It's not like I don't feel like working!
You look like the kind of guy who would actually go home when told to.
No no no, I always thought "If I go home now everything will end" so I grit my teeth and replied "I'll work hard!". It happened many times.
Your image actually ruins you a little.
It's probably hard to see that I'm working hard from the outside. Maybe it's also because when I'm troubled I don't show it. Anyway, Miyata and I got yelled at often (laugh). I was symmetric partners with Miyata, and whatever happened they would yell at us. It also happened a lot that when Miyata failed I had to endure the staff's preach too.
What kind of things did you and Miyata-kun talk about at that time?
Our bond was created by the fact we both got yelled at often, so we understood each other. The two of us even went picking strawberries together. As we were picking the strawberries we talked about things like "We're really no good" "Even though we're doing our best."
On the other hand, didn't you feel happy when someone praised you?
I wasn't ever praised. There's no one who would praise me. When I accomplished something, I was always treated like it was obvious. I grew up being scolded all the time so on the contrary it feels gross when someone praises me. I end up thinking "There must be something behind it." I don't like being praised.
Before debuting there has been a moment when your position was switched from the back line to the front line.
Yes. At first... I disliked standing out.
You still disliked it!?
I felt embarrassed. I always danced at the sides and suddenly they told me to dance as the centre. The scenery is completely different, there's no one in front of you. I was very upset. I thought maybe I couldn't do it.
So you were actually upset.
I just tried not to show it. But even if I tried to look calm outside, I was shivering inside of me, thinking "this is no good."
So you gradually got used to it?
You know, if someone tells you "Do it," you just cannot reply "I can't." You absolutely must clear the task. Moreover among my Jr. friends there were a lot of people who despite saying "I'll do my best and debut!" ended up quitting at a certain time. I thought "It's so easy to disappear from here." I have this kind of hazy personality so I wondered why I was still there while guys who did their best had gone. I wasn't that good at dancing, and I didn't have any field in which I stood out. I was just lucky. So I thought that being hazy was disrespectful towards the guys who were serious, and I had to do my absolute best at everything. At the jobs I got, at the position they gave me, at everything.
"You have to choose your path by yourself, but once you start stagnating it's over"
But it took you a long time to debut. I'm amazed that you kept working hard.
But there's been a time when I thought of quitting and stopped my activities for a while.
When was it?
It was during my third year of high school, when my classmates were starting to think seriously about their future. One wanted to become a dancer, one wanted to become a model, everyone knew clearly what path they wanted to follow. At that time I was really jealous of how they were doing their best towards their dreams and targets.
But you were doing your best, and wasn't it your dream to debut?
It was my dream, but I had no idea if we could debut or not. There's no guarantee that you can debut, no matter how hard you try. Of course your skills are important, but you also need good timing and luck. How long would I keep being a Johnny's? Isn't it better if I quit it now rather than grow sloppy? I also talked to my parents and told them I was thinking of quitting.
Why did you go back, then?
One day I was taking a bath and my father came and took a bath with me
(T/N This may shock some of you but it's common practice for parents and children to take baths together, especially of the same gender - till not so long ago Japan wasn't so concerned with non-sexually connotated nudity, unlike the West)
. He told me "Why don't you try doing your best a little longer?" You see, until middle school my parents always scolded me, but my father had always told me that when I'd go to high school he wouldn't tell me anything anymore. "Do what you want, choose your path yourself, live the way you want to. Maybe you will regret something, but you'll have made experiences." They actually stopped scolding me the second I got into high school.
So he told you to decide about your future by yourself.
Yes. But even so, my father came to take a bath with me and told me those things. He told me "You have to choose your path by yourself, but once you start stagnating it's over." Once I heard that, I realized.
What did you realize?
That thinking about quitting was a negative perception. I wasn't quitting because I had found something else I wanted to do. I was just afraid of the future I couldn't see, and trying to escape from it. So I faced forwards and thought about doing my best once again.
I see.
And then after that my mother came in the bathroom, rested her chin on the border of the bath tub and told me "How about working hard just a little more?" Of course I was naked, and I was a teenage boy, so I heard her talk while replying "yeah, yeah" and hiding my nether parts (laugh). I wanted her to leave as quick as possible so I replied "Got it, I'll do it."
Ahahah.
But I decided inside myself that I would definitely quit if I couldn't debut before turning 20.
Who did you tell this to?
I didn't tell anyone. I was in a group, it wasn't just my own problem anymore, and I knew that if I quit it would cause a hindrance to them, but... I decided I wouldn't tell them until the very end.
You're the type who keeps his worries to himself.
I'm the type who piles up stuff on his own, then starts panicking and explodes (laugh)
But who debuted before you was Hey!Say!JUMP.
There were members who had joined way after us. Moreover we were told by the staff to backdance for them on their debut concert. We thought "why should we do it?", it was really frustrating for us. That was the occasion when my switch was turned on, so to say. I thought I would definitely debut and look back at them, triumphant. I didn't tell any of the members but I thought that clearly.
Anyway, you just said that the limit you set yourself for debut was 20, but your debut happened after you turned 20, didn't it?
It did. It's true. I had thought I'd quit at 20, but then little by little Kisumai started getting CM jobs, and we could do a lot of new things. I started hoping that if we worked hard just a little more we could debut. So I kept running, telling myself "Just a little longer, just a little longer." If I'd quit right when I turned 20, I wouldn't be here.
"If I gave up it'd be lame, right?"
When you were 19 you appeared in the drama Gokusen.
I was really happy. But when I finally started filming I couldn't act at all. I realized how much strength I lacked, how bad I was. Even now I wish I could just re-film it.
But you kept getting more and more acting work.
Actually when my next acting job after Gokusen was decided I really didn't want to do it. I thought I couldn't do it, I wasn't inclined to it. Among many people who are professional actors, I would lead "Ikemen desu ne" and so I had to achieve some kind of good result. I felt very pressured. It was hard. No one ever gave me advice on acting, either. It was a fight against myself and a lot of other things.
Did you keep all your uncertainties, complaints, troubles to yourself again?
This kind of things, I couldn't tell them to the members, and I was embarrassed to tell them to my family. I don't want to show my weak side so I always look calm... but then again the pressure was huge, so I spat all those things out when I was alone, like when I was taking baths. Maybe it's okay to show the weak side of you to your family but I'd hate it. I don't want to show it to my family.
How did you keep doing it while feeling like this?
I thought, on the other hand, what would happen if I gave up? If I gave up it'd be lame, right? Yeah. It was a wall I had to overcome, it was a trial for me. Our time as Jrs was long so we saw a lot of people debut. Every one of them had achieved their debut by effort. For example, I saw KAT-TUN's debut while backdancing for them. It's weird if I say so, but I thought "They're really working hard!" There are things I could see thanks to my long period in the back. There were a lot of senpai who have overcome their own walls, so if I gave up on mine it'd be lame, right?
Everyone's my rival, I am my own rival
Returning back in time with our talk, your debut was announced on stage in February 2011.
It felt weird. I went blank. I wondered what did he say, if I'd heard right. It felt "Are we really going to debut? Actually, is it okay for us to debut?" I was just standing there shocked, but since everyone else was rejoicing, I thought I had to rejoice too (laugh).
Ahahah.
After our debut was announced we all went to eat yakiniku together. Until then we'd gone in groups, or gone with the staff, but it had never been just the seven of us.
It was a lot of fun, right?
Quite the opposite. Once we'd finally gathered it felt somehow awkward (laugh). At first we silently grilled our meat and ate, all of us. Then Kitamitsu took care of us and started talking about what we wanted to do when we'd debut. He said "It's okay if it's something exaggerate. We'll just make it come true. One by one, let's talk about our aims."
What did you say?
Me? I said "I want us to become national stars." I think that somewhere everyone considered this as our aim. So we passionately talked, on by one, and the atmosphere got a little heavy and we started eating again in silence.
You've said you've always quit your activities soon. It's amazing how you kept being in Johnny's even with all those worries and pain.
How do I say it? All my activities had been imposed to me by my parents. Well, I didn't join the Jimusho of my own accord either... But after a while I started loving this job.
But it's hard to keep doing even things you love and want to do, and it's even harder to find them.
It's true. But I think there's nothing to do but find it. The only thing I can say is that there are things who become more fun if you put all you have into them. Dancing, singing, even acting are like this. Looking at my senpai made me want to improve. I'm really bad at singing, dancing and acting. But I love them all. I want to become better at them all. Even if some things are so hard they make me sick, and I can't see the end of it no matter how hard I try.
So what do you think of Hey!Say!JUMP now?
Now I don't think anything in particular about them. It's not like I can't forget that day or something (laugh). We debuted later than them but we stand on the same line, and they're comrades we fight together with.
Was there a moment when you thought you'd surpassed them?
Surpassed them... You see, I don't really care about it. I was a very mean person before debuting. Wanting to become the first in my group, wanting to win against guys of my own generation... they're all mean things. After debuting I started thinking what I could do among all the senpai we have. So, how should I say it, everyone's my rival, or I am my own rival.
Lastly, I want to know the reason why you never complain to anyone.
I wonder why? I guess deep inside I'm someone who tries to look cool at all times. Somewhere inside of me I've always wanted to be seen as a guy who could accomplish anything. My family tells me what they think of the shows I've been in. They tell me "You did good!" but I'm embarrassed by it so I just reply "Ah, I see", but I'm actually very happy.
Will you some day complain openly or show your real self?
Some day... but I actually show my real self to the members. I just don't complain. We don't need to put this kind of things into words anymore.
What do you mean?
There are just too many things, but for example on shooting location for Ikemen desu ne, I read the script so many times that the characters were starting to fade and the pages had become all worn out. Gaya saw it. He doesn't ever say "Do your best" out loud. Instead, he backed me up and helped me a lot. Or during filming for variety shows, when I think I can't take it, even if I don't say anything the members feel it and pat my back as if to reassure me it's okay. Even if I don't put it into words the members understand me. We understand each other. I think I've been able to make it this far because the members have all helped me. So, I know it's not a reply to your earlier question, but the reason why I haven't quit is because they were there for me.
---
PLEASE CREDIT ME IF YOU REPOST IT. Including portions of it, including if you do it on facebook or tumblr. Thank you.